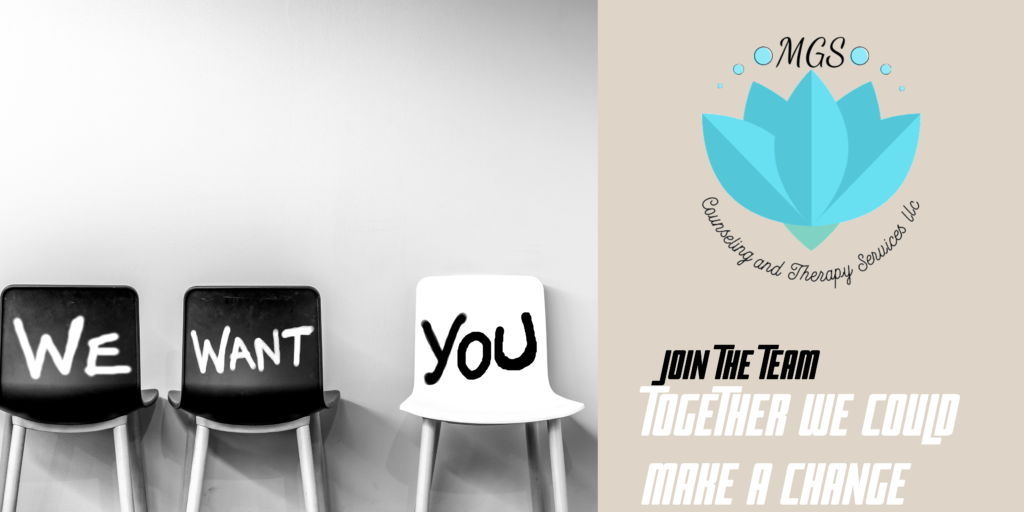 Therapist Position 
Job Description
Welcome to MGS Counseling and Therapy Services, LLC. We're do glad you're considering joining our team. MGS Counseling offers face to face and remote telehealth services throughout Florida. As a provider we want to team up with you to prioritize our focus on what's most important – treating and caring for our clients. Which is why we have a team dedicated to handling all the administrative aspects of therapy: Client intake, initial documentation, scheduling, payment processing and marketing. This extended support gives you the time and space you need to be present and engaged with out clients.
You'll also enjoy support from your colleagues during small-group consultation meetings and team building events. These groups are an intimate way to collaborate with other therapist and build community and camaraderie. We are committed to cultivating a positive mental health environment within our organization. Our goal is to make you feel valued, included, and proud of the work we're doing to enable mental wellness for all.
We are currently seeking licensed therapist and counselors to join our team to provide therapeutic services. This is a contracted position working with Individual, Couples and/or family therapy through our telehealth program. This position is currently remote and may be based anywhere in the United States. We currently have two available time positions Monday – Friday [with Thursday off], 7am -1pm EST and Saturday's 9am – 1pm Est or Monday – Friday 11am -9pm EST
Qualifications
Master's (Required)
License to practice virtually (LMHC, LCSW, LMFT, LPC ) (Required)

Certification as a Licensed Marriage and Family Therapist (LMFT) or Licensed Mental Health Counselors (LMHCs)
Will consider Registered Interns for in person positions only in the state of Florida.

Masters or Doctoral degree from an accredited university or professional school of Counseling, Social Work or Marriage and Family Therapy
Appropriate FL-state (or multi State) licensure required: must have active License
Eligibility to work in the United States. We are not able to provide or assist with visas or attaining work eligibility
Fluency in English, Spanish preferred; proficiency in other languages a plus
DBT, CBT, EMDR experience; Certifications a plus
Ability to use technology, including telehealth software or comfortable with video communication
Responsibilities
Telehealth therapy with option for Individual, couples and family therapy
Maintaining a healthy working relationship with other staff to achieve goals
Monday – Friday [with Thursday off], 7am -1pm EST or Saturday's 9am – 1pm Est or Monday – Friday 11am -9pm EST
Create Comprehensive therapeutic assessments and treatment planning with proper documentation
Attend virtual and/or in-person office meetings
Understanding and applying compliance with HIPAA laws
Maintaining a professional appearance
Having proper work ethic; being on time, working in a room with no interruption, maintaining stable internet connection, and maintaining a clean environment for clients to see in session.
Number of positions available 4
Benefits: Flexible schedule, virtual position
Please send all cover letter, CV's or resumes to [email protected]
Life Coach Position 
Job Description 
Job Type
Part-time
Contract
Number of hires for this role
On-going need to fill this role
Qualifications
English or bilingual (Required)

Master's (Preferred)
Benefits
Pulled from the full job description
Full Job Description
This is a personal coaching position that helps clients obtain a balanced life, work better, and succeed at work and home. Our coaches provide programs and tips on well-being and healthy life management skills.
1. Have tools to help clients learn and empower our themselves.
2. Coaches will posses personalized tips for immediate action related to a specific need – for example, questions concerning leadership, communication, personal and business relationships, self-awareness, motivation, mindfulness, stress, etc.
MGS Counseling is recruiting a highly motivated Coach to join our growing dynamic team. We are seeking an English or bilingual employee who is, passionate about and specialized in psychology, life coaching, business coaching, or personal development.
Your Mission:
As a "*Coach, Business Coaching, and Personal Development",* your mission will involve the following: Create and write Programs with actionable Tips to help your clients gain success. 
__
**
Core Skills:
English or English bilingual
Strong writing, editing skills
Passion for Personal Development, Life Balance, Business and Health
Creativity and the ability to develop original content
Ability to develop content that provokes engagement
Experience required:
Degree educated and/or career in Psychology or Coaching: Bachelor's Degree in Psychology (Master's preferred)
Life Coach experience and Coaching Certification(s)
Job Details:
Freelance contract
Remote job
Could you please provide with your resume a motivation letter and samples of programs designed?
——–
Job Types: Part-time, Contract
Benefits:
Education:
Language:
English or bilingual (Required)
License/Certification:
Life or Business Coach experience or Coaching Certification (Required)
Work Remotely: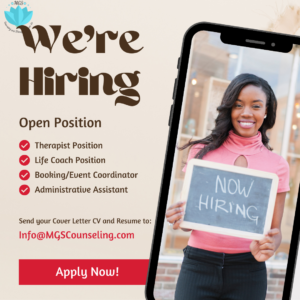 Administrative Assistant Position 
Job detail
Job Type
Part-time
Possible Full-Time Position
Number of hires for this role
1
Qualifications
Associate or Bachelor's degree (Preferred)
High school or equivalent (Required)
Some College Experience
Customer service: 2-4 year (Preferred)
Computer skills: 2-4 year (Preferred)
Bilingual
Benefits
Weekends Off
Employee discount
Holidays Off
Full Job Description
Available Immediately!
BILINGUAL /ENGLISH SPEAKING FRONT DESK PERSON: Looking for someone that is experienced in a Medical Office or Out-Patient Therapy Office, to function as an Administrative Assistant / Receptionist / Front Desk Person.
New hire must have the ability to multi-task and have general office management skills and Bilingual.
You must have excellent customer service capabilities not limited to personal, telephone, and email interactions. This position requires flexibility, compassion and professionalism at all times, including appearance. You must be motivated, able to take direction and follow through with all aspects of the job.
Therapy Office Receptionist Job Duties:
Greet and check-in patients, and collect personal, medical, and insurance information.
Schedule, reschedule, and verify patient appointments, schedule appointments.
Telephone skills: communicating with current and new patients, dealing with insurance companies, communication with other Medical Professionals and Offices.
Maintain up to date Medical Record & Insurance Information on all patients.
Coordinate Therapists and Life Coaches' schedules and maintain patient flow by communicating patient arrivals or delays.
Manage patient records and files; reinforce and uphold patient confidentiality as required by HIPAA and Therapy Office.
Job Types: Part-time
Benefits:
Weekends Off
Employee discount
Holidays Off
Schedule:
Education:
High school or equivalent (Required)
Associate or Bachelor's degree (Preferred)
Experience:
Customer service: 2-4 year (Preferred)
Computer skills: 2-4 year (Preferred)
Language:
English (Bilingual Preferred)
Work Location: One location Possible Virtual Position
Booking/Event Coordinator 
Job details
Number of hires for this role
1
Benefits 
Flexible Hours
Holiday's off
A Booking/Event coordinator duty would consist of booking speaking events, setting up events, booking facilities, coordinate fundraisers,
ordering promotional materials, maintaining social media accounts, ensuring transport of booths for trade-shows and setting up other types of events.
You must be extremely reliable and able to work through problems to ensure events come off as planned. You are the brains behind the scenes, and we want your actions to reflect the vision of the entire team. 
A lot of times the skills are learned as you go. A lot of common sense and problem solving under pressure. A background in the hospitality industry might help but it depends on exactly what the duties you will be performing. Sometimes event coordinators are internally focused other times externally.
ESSENTIAL DUTIES & RESPONSIBILITIES
Deployment and coordination of workshops and conferences including ordering, selection of materials, setup, décor and booking of speaking events.
Management and maintenance of promotional materials such as décor, promotional merchandising and other promotional tools.
Management of company social media accounts and updates for website.
Responsible for booking and managing in house workshops and events.
Setup and deploy MGS Counseling promotions accurately and in a timely manner.
Handle routine customer complaints and incidents and exhibit the appropriate discretion to define situations requiring the attention of supervisory personnel.
Seek to resolve all situations in a manner that maintains positive relationships.
Must be able to work a flexible schedule as required by business operations, including nights, weekends and holidays; shifts may change based on business needs.
Responsible for inventory control of all documents and supplies used by personnel.
Other duties may be assigned.
KNOWLEDGE, SKILLS & ABILITIES
2+ years of marketing experience preferred.
High School Diploma or GED equivalent preferred.
Proficient computer skills in Microsoft Word and Excel.
Ability to write routine reports and correspondence.
Excellent verbal and written communication skills.
Ability to perform multiple duties under frequent time pressure.
PHYSICAL DEMANDS & WORK ENVIRONMENTS
Frequent sitting with intermittent standing and walking.
Work environment may include variable temperature, lighting and noise levels.
Please note this job description is not designed to cover or contain a comprehensive listing of activities, duties or responsibilities that are required of the employee for this job. Duties, responsibilities and activities may change at any time with or without notice. Essential duties must be performed with or without reasonable accommodation.
Please send all cover letter's, CV's or Resumes to [email protected]